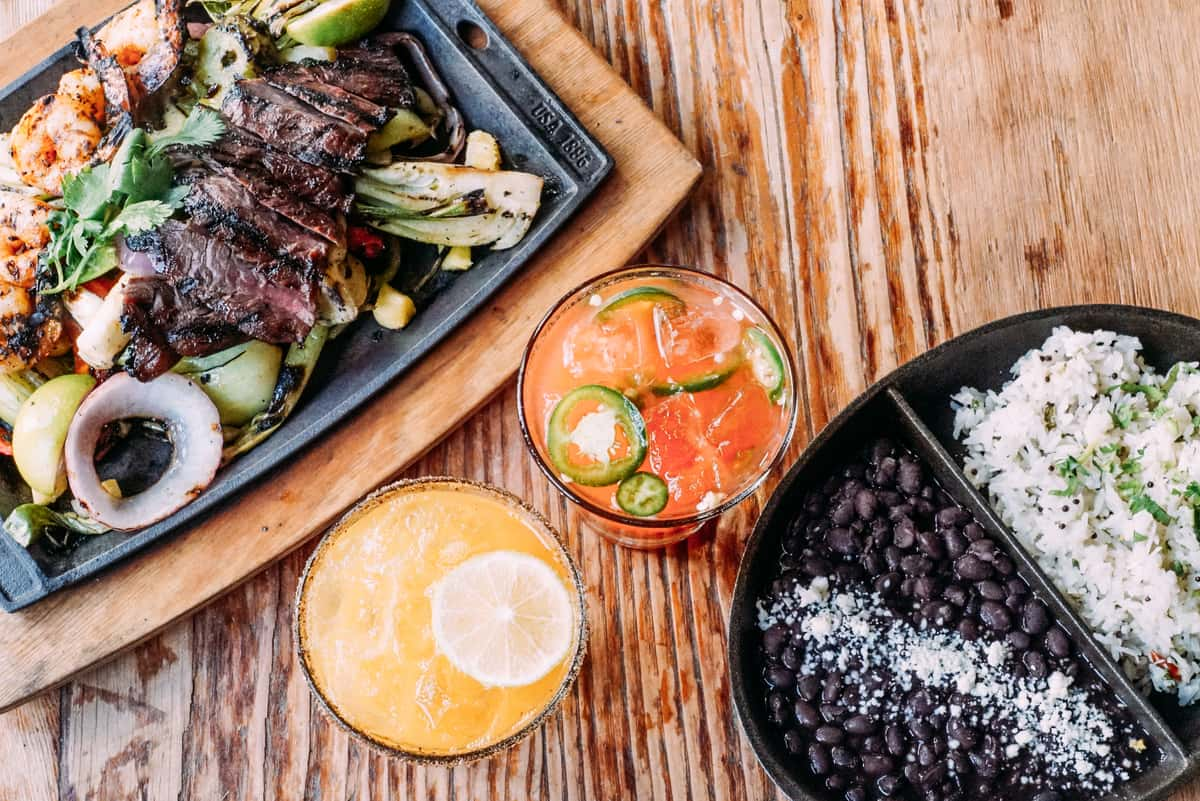 Private Events
Cabana Room
CAPACITY: 40 SEATED, 60 STANDING

Past the bar and adjacent to our open kitchen, the Cabana Room offers larger groups a place to dine or mingle in a semi-private setting. Enjoy the smell of tropical cuisine being prepared while you celebrate a special occasion or host a meeting. A wall of mahogany shutters provides privacy from the bar area.
Communal Table
CAPACITY: 14 SEATED

Located within the bar area, our Communal Table is a festive option for groups interested in gathering for shared dishes and punch bowls where noise and cheer are preferred. Seating is bar height with comfortable high-backed chairs.
Solarium
CAPACITY: 16 SEATED

Adjacent to the front patio, our Solarium offers medium-sized groups a bright and airy atmosphere as well as semi-privacy for either seated meals or small cocktail parties. Enjoy views of our 150 year-old palm tree as well as the patio and bar area.
Patio
CAPACITY: 35 SEATED, 35 STANDING

Our most coveted space, the Patio offers larger groups sun, shade and tropical foliage right on Union Street. Heating and sidewalls ensure your group stays warm on foggy nights.
Sister Venues
Check out our sister restaurants and bars for other great experiences and event hosting options.
The Dorian
2001 Chestnut Street, San Francisco

The Dorian is a neighborhood supper club serving modern American fare and free-spirited cocktails. It is is an ode to a bygone era, a modern day parlor for the bohemians, libertines and free thinkers among us. A place where Oscar Wilde might have dropped in for a drink or Jerry Thomas would have tended bar. Offering fresh provisions and fine whiskey, The Dorian is the quintessential destination to enjoy good times for good times sake.

STANDING CAPACITY - 250
PRIVATE DINING ROOM - SEATED 60/STANDING 70
PRIVATE MEZZANINE - SEATED 18/ STANDING 40

CONTACT: jazlyn@doriansf.com
The Bergerac
316 11th St. San Francisco

Bergerac is equal parts craft cocktail bar and impromptu house party. The inspiration for Bergerac is the legendary Villa Nellcôte, an old French mansion where the Rolling Stones recorded their seminal album "Exile on Main Street." During their stay, the band threw parties and savored the best food and drink served by their entourage and renowned personal chef.

STANDING CAPACITY - 175

CONTACT: jazlyn@bergeracsf.com